Void Symbol
Comments

5
1,253pages on
this wiki
| | |
| --- | --- |
| | The article Void Symbol is still unfinished and may be lacking detailed general information, screenshots, and crafting recipes. Please expand the article and remove the {{unfinished}} tag once the article can be considered complete. |
| | |
| --- | --- |
| | Void Symbol contains information about the ThaumCraft mod. |
Not used in latest Technic releases.
Edit
Void Symbol
Edit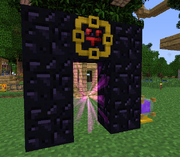 The Void Symbol is created by infusing a
Blank Symbol
with a
Stabilized Arcane Singularity
in a
Vis Infuser
.
The Void Symbol is used for creating 'Gates' to other places. Each gate connects to a network determined by the rune placed on the symbol. The gate needs a Vis source (either a Vis node connected to a Vis crucible or a portable Vis node) in order to function.