| | |
| --- | --- |
| | Conduits, Nodes & Valves contains information about the ThaumCraft mod. |
Liquid vis cannot be handled safely. In order to distribute and store liquid vis as well as regulate its flow, vis conduits, nodes and valves are needed.
Glass conduits are needed to transfer liquid vis from the crucible to anything else which requires it.
Valves are used to control the flow of vis - clicking on a valve (or supplying a redstone signal) blocks the flow of vis through it.


Nodes can be connected to conduits to act as storage containers, but they have a far more important purpose than that - Symbols draw their power from nodes to power their mystical effects. For mysterious and arcane reason Nodes cannot be placed directly adjacent to each other. Note that in thaumcraft 2, they have been replaced by Vis tanks.
Portable Node
Edit
Portable Nodes work like normal nodes, except they are created containing a fixed amount of vis. They cannot connect to conduits or other blocks that draw vis from conduits. Portable nodes act as a way to quickly place a fuel source for symbols without having to set up a crucible or conduit network. When broken portable nodes turn back into normal (empty) nodes their remaining vis is lost.
Video Tutorial
Edit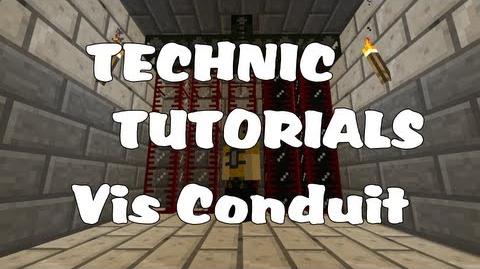 Thaumcraft
 

Thaumatorium

Vis Production

Vis Measuring

Vis Management

Vis Processing

Other

Equipment
 

Objects of Wonder

Power Items

Seals
Ad blocker interference detected!
Wikia is a free-to-use site that makes money from advertising. We have a modified experience for viewers using ad blockers

Wikia is not accessible if you've made further modifications. Remove the custom ad blocker rule(s) and the page will load as expected.