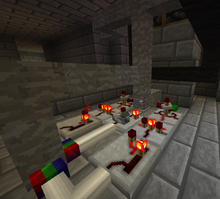 Hi, I'm Nihiltres. Yes, I'm this Nihiltres. I avoided mods completely from my Minecraft start back in Alpha until summer 2012. Remembering what little I'd heard about early versions of RedPower, I downloaded the Technic modpack and have been enjoying Tekkit (and occasionally Technic) since.
I tend to play mostly single-player, but if I hear about a good, small server I might be interested in joining.
I strongly feel that Equivalent Exchange is broken, and while I enjoy the convenience of Technic and Tekkit as modpacks, I refuse to use any of EE's items unless I am playing a hardcore game and specifically allow it to myself.
I favour RedPower, and use that mod almost exclusively in my games, with the notable exception of a few IndustrialCraft machines. In my main Tekkit game, I'm building a basalt brick castle with marble floors and heavy RedPower machine integration, plus a Frame Motor-powered airship that will dock on the castle's main tower.