The Treetap is a tool added from Industrialcraft 2 that is used for the collection of Sticky Resin from Rubber Trees.
To use the tree tap, right click on the orange-yellow blob on a Rubber Tree whilst holding a tree tap to extract the resin. The blob will disappear and sticky resin will appear in your inventory. This process will give you between 1-3 sticky resin.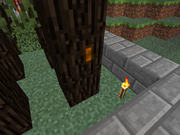 Please note that there will be a small black hole on that part of the tree most of the time after this process. If you continue right-clicking on it, it will eventually disappear but can sometimes give you more sticky resin. But this will deplete your tree tap very quickly so be aware of your tree tap's health in your hotbar. By using the tree tap multiple times on the tree, it will eventually stop the tree from regenerating its sticky resin so please bare this in mind.
They are very weak tools and will run out very quickly so do not waste them unnecessarily. It is recommended that you eventually upgrade to an electric tree tap (below) for they do not run out but use EU instead. They can be charged in a BatBox or using a BatPack. An MFE or an MFSU may be used for charging this too.
Smelt the sticky resin in a furnace to gain 1 piece of Rubber.
Extract the sticky resin in an Extractor to gain 3 pieces of Rubber.
Extracting sticky resin with the treetap gives you the "Sticky Situation" achievement.
Although, once you have an extractor, it is recommended that you stop doing this and look for a RedPower Rubber Tree and destroy its 3x3 trunk and extract the wood in an extractor. Each piece of wood is worth 1 rubber once extracted. The RP Rubber Tree cannot be confused with a regular tree because it is absolutely massive. This is what one looks like:
Video Tutorial
Edit
http://www.youtube.com/watch?v=lpHYIk88bRk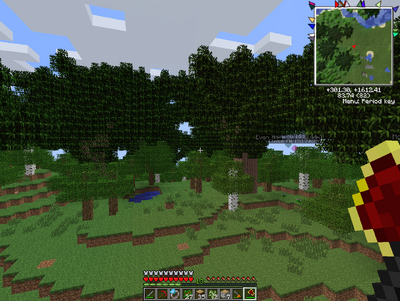 ==R
==
It is used to collect Sticky Resin from a Rubber Tree by right-clicking on the orange sapholes on the trunk of the tree while holding the Treetap.
It can be used to create the Extractor, the Electric Treetap, and Mining pipe.
Extractor:
Electric Treetap:
Mining Pipe:
Industrial Craft
 

Energy and Wiring

EU Storage Blocks

EU Storage Items

Transformers
 

Machines

Components

Gatherers

Generators

Processors

Utility

Advanced
 

Nuclear Reactor Components

Cooling

Radioactive
 

Tools

Mundane

Powered

Transmitters

Utility
Ad blocker interference detected!
Wikia is a free-to-use site that makes money from advertising. We have a modified experience for viewers using ad blockers

Wikia is not accessible if you've made further modifications. Remove the custom ad blocker rule(s) and the page will load as expected.