| | |
| --- | --- |
| | Transport Pipes contains information about the BuildCraft mod. |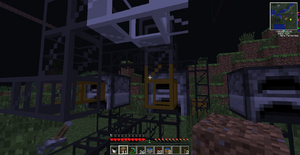 This article applies to transport pipes. If you were looking for waterproof pipes that transport liquids, they can be found here. If you are looking for conductive pipes to transport buildcraft energy, go here. If you are looking for logistics pipes, they are found here. Other advanced pipes can be found here.
There are seven different kinds of transport pipes. All of them transport items, but some have other special properties. All pipes will connect to themselves and each other, except stone and cobblestone do not attach. All transport pipes are crafted the same way, except that the item surrounding the glass changes
The wooden pipe is used to only withdraw materials from a block that stores items, such as a chest or a slot of a furnace. It must be connected to a cobblestone transport pipe or another appropriate pipe.
It only withdraws materials when powered by an engine: one at a time for a redstone engine, eight at a time for a steam engine, and a stack at a time for a combustion engine. It is crafted from two wooden planks and a glass. If it is put on the top of a machine, it will generally withdraw from the input slot, the bottom goes to the fuel slot, and the front or side is the product. Like the golden pipe, it cannot be connected to another wooden pipe.
The cobblestone pipe is used to carry items. Items that go in one side will have a random chance to go out any of the other sides. If there are no other sides, it will pop out of the pipe. The cobblestone pipe will not interact with a stone pipe if placed parallel to one. It is the most basic pipe.Note: Items can pass each other in opposite directions in a pipe.
The stone pipe is identical to the cobblestone pipe in function, but does not bond to it. It is often used as a second pipe in a place where two individual adjacent pipelines are needed. It has the bonus of keeping items accelerated by a gold pipe fast for a longer period of time.
The iron pipe is a one-way pipe. It can have many inputs for items to enter, but only one output that they will exit. This is visually shown by the output being the clear exit, and the inputs being the opaque ones. The output direction can be changed by right-clicking on it with an iron buildcraft wrench. The direction can also be changed with redstone; every time the signal changes, it will cycle to another output. It will not output to a wooden pipe.
The gold pipe will accelerate items passing through it. The acceleration lasts 16 blocks, more if in a stone pipe. This does not do anything except shorten the time it takes items to travel from one place to another. Also, it can link stone and cobblestone pipes together. These pipes can connect to other gold pipes and roughly three successive gold pipes connected will accelerate an item to max speed. (Note that the golden pipe has to be redstone powered to speed up items)
The diamond pipe filters items. All the pipes attached to it will be assigned a color; then by rightclicking on the diamond pipe with a wrench, you can adjust the filters for each output. The GUI has six colored rows, one for each pipe attached. If you put an item in a slot of the GUI, that item will go to the pipe of that color. If the item is not represented in the GUI, it will come out of a pipe without any items in its row. If an item is not represented, and if there are no empty outputs, the item will simply pop out of the pipe and fall to the ground. If an item is represented in more than one row, it will have a chance to go to these outputs that is proportional to the number of times the item appears in that row.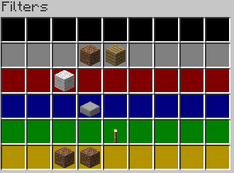 For example, in this picture, wool would go to the red pipe, stone slabs to the blue, torches to the green, and planks to the gray. Dirt would have a 1/3 chance of going to the gray output and a 2/3 chance of going to the yellow output. Everything else would go to the black output.
Obsidian pipes automatically collect items that are either dropped on the floor or in a storage minecart. They only work if attached to one other pipe, and do not connect to other obsidian pipes. The range at which they can pick up items is increased by powering it with an engine. Redstone engines suck up one item at a time, while other engines pick up more. Without power, items must touch the pipe to be collected.
Note: Using water streams is an easy way to get the items near the obsidian pipe without having to use powerful engines.
Note: Any arrows shot within the effective range of an obsidian pipe will be collected by the pipe. Even arrows that are shot by skeletons.
Picture Gallery
Edit
Video Tutorials
Edit
BuildCraft
 

Pipes

Basic

Waterproof

Conductive
 

Automation

Engines

Mining

Refining

Building

Other
 

Advanced Logistics Control

Crafting Equipment

Chipsets

Pipe Wires

Gates
 

Resources

Crafting Components

Fuels