| | |
| --- | --- |
| | The Sadhu contains information about the Millénaire mod which is not included in the current recommended version of Technic Pack and might be outdated. |
The Sadhu is a mission that is part of the Creation Quest included in the Millenaire mod. It is the first quest in the series, and begins to ask questions about the cause of the Minecraft world, and the reasons for the existence of it's inhabitents. In this 'episode', the player finds the Sadhu Vidya and talks to him about what is needed.
The quest can only be started if the player has attained a Reputation of "Friend of the Village" in a Hindi village.. Once this level has been achieved, the quest can be accepted from either the village priest, or the chief's wife. They can be located in the main building.
This section contains Spoilers. Do not read if you want to do this on your own!
The main objective of this quest is to locate the Sadhu. He is always situated under a large tree in a forest biome that is not yet generated. This means the player must travel out to a previously ungenerated forest biome (once the quest is accepeted) to search for him. This may take a significant amount of time, so the player must be sure to bring adequate supplies.
The bottom left chat that usually informs a player as to the whereabouts of the nearest village will also show when the Sadhu is located nearby. At this point he usually can be located by scouting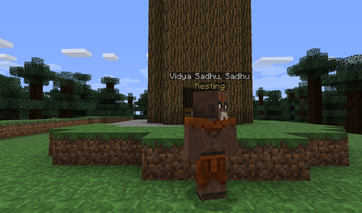 for a tree much taller than the others.
Once the Sadhu has been located, simply moving to him and clicking on him to talk will complete the quest and allow the player to move onto the next one, Initiation. Bear in mind that once the quest has been completed it needs to be handed in back at the Hindi village from which you accepted it to open up the next episode. It is advisable to use Rei's Minimap (if you are using the Technic Pack) to add a waypoint over the location of the Sadhu so that the player can find his/her way back after returning to the village.
There are generally no rewards for this episode bar the availability of the next one. However, sometimes clicking on the Sadhu will cause a chest to be unlocked. Inside the chest a Wand of Negation can be found.
Talking to the Sadhu is a little buggy; sometimes he will not speak if clicked on. This can be fixed by waiting for a few minutes.
Other times, he may disappear. Unloading and reloading the map will solve this.
If you have already discovered a large amount of your map, finding the Sadhu may take a significant amount of walking.