| | |
| --- | --- |
| | The article Thaumic Restorer is still unfinished and may be lacking detailed general information, screenshots, and crafting recipes. Please expand the article and remove the {{unfinished}} tag once the article can be considered complete. |
| | |
| --- | --- |
| | Thaumic Restorer contains information about the ThaumCraft mod. |
Thaumic Restorer
Type
Thaumic Machine
Physics
No
Tool
Stackable
No
Mod Included
Thaumcraft
The Thaumic Restorer is a crafted item researched using a Quaesitum and normal artifacts.
When powered by Vis, any items placed into the left side will slowly have their durability refilled and then will be moved to the right hand side once fully repaired. It has one slot for Thaumic upgrade.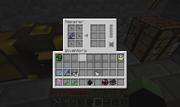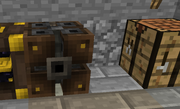 The repairing process does NOT destroy or remove enchantments on the item. The repairer will repair any item with a durability bar, including all manner of tools, weapons, armor, charms, and Thaumic instruments.
When the machine is running you can hear a distinct ratcheting sound in the area.
Ad blocker interference detected!
Wikia is a free-to-use site that makes money from advertising. We have a modified experience for viewers using ad blockers

Wikia is not accessible if you've made further modifications. Remove the custom ad blocker rule(s) and the page will load as expected.