"
Thaumaturgy... which giveth certain order to make strange works, of the sense to be perceived and of men greatly to be wondered at.
"

– Mathematical Preface to Euclid's Elements (1570), John Dee
ThaumCraft 
(TC) is a mod included in the Technic pack. Thaumaturgy is the capability of a magician to work miracles. A practitioner of thaumaturgy is a thaumaturge, thaumaturgist or miracle worker. This is what this mod is all about - drawing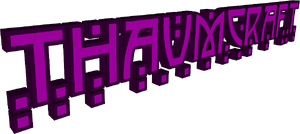 magic from physical objects in the form of "
Vis
" and reshaping it to perform miracles. At its core, this mod allows you to turn raw matter into Vis, which can then be used to power magical symbols, enchant items or even turn back into different, slightly tastier kinds of matter.
Core Items
Edit
There are several machines in Thaumcraft, however, most of them need Vis. The easiest and most effective way to acquire this magical energy is to make a Crucible. Get Vis by throwing items into it, but be careful not to overfill the Crucible, for if the Vis Crucible spills over, any number of unpleasant events could occur (ranging from the destruction of nearby blocks and explosions to the creation of Thaumic Slimes). Standing on a Vis Crucible deals 1/2 a heart of damage per second. Anything the Crucible cannot process is spit back out at the user.
Useful Links and Tutorials
Edit
Thaumcraft
 

Thaumatorium

Vis Production

Vis Measuring

Vis Management

Vis Processing

Other

Equipment
 

Objects of Wonder

Power Items

Seals
Ad blocker interference detected!
Wikia is a free-to-use site that makes money from advertising. We have a modified experience for viewers using ad blockers

Wikia is not accessible if you've made further modifications. Remove the custom ad blocker rule(s) and the page will load as expected.