Ad blocker interference detected!
Wikia is a free-to-use site that makes money from advertising. We have a modified experience for viewers using ad blockers

Wikia is not accessible if you've made further modifications. Remove the custom ad blocker rule(s) and the page will load as expected.
| | |
| --- | --- |
| | Switch Track contains information about the Railcraft mod. |
Switch Track
Physics
No
Tool
Stackable
Yes
Mod Included
Railcraft

Switch Tracks are specially-designed tracks that are made to travel in one direction from one side, and travel in one of two directions from the other. When activated by either a Switch Lever or a Switch Motor, the track changes its direction from a straight line to a right-angle turn, or vice-versa.
Trains or Carts approaching from either of the two opposite directions treat the Switch Track as a normal turn or straight track, as the Switching mechanism only affects travel in one direction.
Switch Tracks cannot be operated by a Redstone signal directly, and must be connected to a Switch Motor in order to be operated remotely via Redstone.
Switch Tracks come in Wooden, Standard, High-Speed, and Reinforced varieties, based on the Ties and Rails used to make them.
Note: Turning on a high-speed switch track will not prevent an explosion if traveling at high speeds.
Video Tutorial
Edit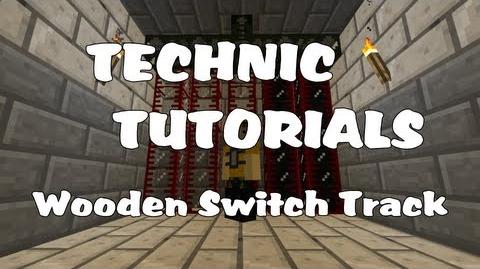 Railcraft
 

Items & Blocks

Tools

Parts

Blocks
 

Devices

Signals

Loaders/Unloaders

Other Devices