| | |
| --- | --- |
| | Sickle contains information about the RedPower mod. |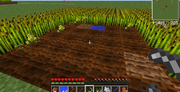 The Sickle is a very handy tool for rapidly harvesting a large amount of crops.
Description
Edit
The Sickle is a handy harvesting tool available in a wide variety of materials. It harvests all crops within a 5x5 square of blocks, with the clicked block in the center. Among the harvested crops are wheat, sugar cane, lily pads as well as flax.
Harvesting flax with a sickle by hitting the tops of the plants will only hack off the tops of flax in range. The lower layer is not touched, so the plant will remain planted in the ground.
Sickles are crafted with one stick and three items of the desired material each:
Wood / Stone / Iron
Gold / Diamond
Ruby / Sapphire / Emerald
RedPower
 

Tools & Weapons

Handsaws

Mundane Tools

Sickles

Utility

Weapons
Ad blocker interference detected!
Wikia is a free-to-use site that makes money from advertising. We have a modified experience for viewers using ad blockers

Wikia is not accessible if you've made further modifications. Remove the custom ad blocker rule(s) and the page will load as expected.