| | |
| --- | --- |
| | Rock Crusher contains information about the Railcraft mod. |
The Rock Crusher is a machine introduced in the Railcraft mod. It functions much like the macerator from IndustrialCraft. 12 Rock Crushers must be placed in a 2x3x2 grid for the machine to work. The machine will also need to be powered by Engines, using up to 15 MJ of Buildcraft power. It has 9 input slots and 9 output slots. Also, it is very loud, so build it far from your home.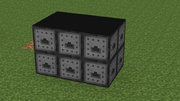 When processing gravel, the Rock Crusher has less than a 1% chance to produce gold nuggets and/or diamonds.
Railcraft
 

Tracks

Standard Tracks

Wooden Tracks

High-Speed Tracks

Reinforced Tracks
Ad blocker interference detected!
Wikia is a free-to-use site that makes money from advertising. We have a modified experience for viewers using ad blockers

Wikia is not accessible if you've made further modifications. Remove the custom ad blocker rule(s) and the page will load as expected.