| | |
| --- | --- |
| | Randomizer contains information about the RedPower mod. |
Randomizer
Type
Circuit
Tool
Stackable
No
Mod Included
RedPower

The Randomizer is a RedPower circuit that randomly emits Redstone signals on any of its three output sides.
Description
Edit
This circuit will randomly emit Redstone signals on any of the three output sides when supplied with a signal on its input. When a continuous signal is being supplied, it will keep randomly firing signals on all three sides. It may send output to one, two, or all three sides at once.
The Randomizer thus introduces to Redstone circuitry an integral element of computing: randomness (see this Wikipedia article for a list of applications of randomness).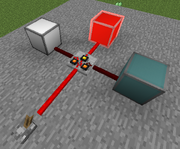 Among other things, the Randomizer can be used to create a random number generator, a jukebox which randomly selects and plays Minecraft Music Discs or a slot machine for gambling.




RedPower
 

Tools & Weapons

Handsaws

Mundane Tools

Sickles

Utility

Weapons
Ad blocker interference detected!
Wikia is a free-to-use site that makes money from advertising. We have a modified experience for viewers using ad blockers

Wikia is not accessible if you've made further modifications. Remove the custom ad blocker rule(s) and the page will load as expected.