| | |
| --- | --- |
| | Railcraft: Getting Started contains information about the Railcraft mod. |
| | |
| --- | --- |
| | Railcraft: Getting Started is a Tutorial. |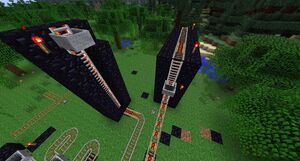 So, you've heard about this Railcraft mod and want to try it out, but don't know what to do? This is the guide for you.
Getting Started
Edit
While Railcraft gives you tons more possibilities for your rail system, it also makes it much harder to produce rails. Following these instructions will make it easier later on:
When you make your base, make a large room (4 blocks high) as a rail production facility or laboratory.
Make a portal to the Nether and find a Nether Fortress. (This is not necessary but very, very helpful)
Get a whole ton of iron and coal.
And now you're ready to begin.
Coke Ovens by the Dozen
Edit
Ok, so the first thing you need to do is make Coke Ovens. The more you make, the more rails you can produce. I reccomend making at least four. I made six.
You will need: 104 Bricks (Item), 130 Sand, per Coke Oven.
Coke Oven Bricks
are produced like this:
You will need 26 per oven.
Now that you have the bricks, place them in a 3x3x3 cube, leaving the center space empty. If you did it properly, it will have slots on the side and look like this:


Now, if you right click on it, you will see a GUI:
If you put coal or wood into the first slot on the left, it will be converted into Coal Coke and charcoal, respectively, without needing any fuel. Coal Coke is useful for making steel, as well as lasting twice as long as normal coal in a furnace, generator, or other fueled device.
But the main use of coke ovens is to gain Creosote Oil, a liquid used in the creation of railbeds for rails. A small amount is created every time coal is turned into coal coke, but each operation takes 3 minutes, so you need multiple coke ovens to create a reasonable amount. The amount of oil stored is shown in the middle section of the GUI that looks kind of like a tank. It can be put into bottles for use in crafting, or put into buckets, by putting the container into the to right slot. A filled container will appear in the bottom right slot.
So Many Rails!
Edit
Now you are almost ready to make rails. But first we need a Rolling Machine, crafted like so:
Now we can make rails. There are two basic parts to minecart tracks, rails and railbeds. Standard rails are made in a rolling machine from Iron Ingot, Bronze, Steel Ingot , or reinforced iron in the following pattern:
Wooden Ties are used to craft wooden railbeds like so:
Standard tracks are made from these two components like so:
There are many different types of tracks, all with different functions. You can look at them in the navigation box at the bottom of the page.
Most tracks use standard rails and wooden railbeds. Wooden tracks use wooden ties instead of rails. Tracks with advanced redstone-controlled functions use advanced rails. Reinforced tracks use reinforced rails. High-speed tracks use high-speed rails and stone railbeds.
Now time to get some steel, which means you need to make a Blast Furnace. You will need 34 Blast Furnace Bricks to create one. It is crafted like this:
It can also be crafted with Infernal Bricks: 
The first method requires 136 Nether Brick, 136 Soul Sand, and 34 Magma Cream. The second method uses an additional 34 Soul Sand. Obviously it is very helpful to have access to a nether fortress; however, you could also produce this by putting netherrack in a compressor and getting blaze powder from Cinderpearl pods.
Now, place the brick in a 3x3 square, 4 blocks tall, with the two center squares empty. The placement is similar to a Coke Oven, but one block taller.
The placement of a Blast Furnace:

| | |
| --- | --- |
| | |
Right-clicking on it will bring up a GUI similiar to a furnace. It must be fueled with Coal Coke, and it converts iron into steel, which is used for a variety of purposes.
Other Cool Stuff
Edit
Future stuff that more details will be added to later.
Steam Power
Edit
Steam power is an efficient power source in railcraft.
Signalling
Edit
See the signalling tutorial here.
Automatic Mining
Edit
See Tunnel Bore. A mini tutorial will be added later.

Railcraft
 

Tracks

Standard Tracks

Wooden Tracks

High-Speed Tracks

Reinforced Tracks
 

Items & Blocks

Tools

Parts

Blocks
 

Devices

Signals

Loaders/Unloaders

Other Devices
Ad blocker interference detected!
Wikia is a free-to-use site that makes money from advertising. We have a modified experience for viewers using ad blockers

Wikia is not accessible if you've made further modifications. Remove the custom ad blocker rule(s) and the page will load as expected.