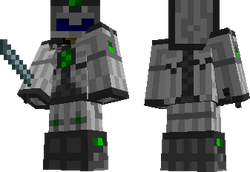 An upgrade over the
Nano Suit
, the
Quantum Suit
is the most powerful armor available in IndustrialCraft.
With a more powerful force field, a full set is able to deflect 100% of incoming damage, ranging from skeleton arrows to the full force of a nuclear blast. Each piece of armor can store up to 1 million EU, therefore, it can last a very long time before needing a recharge; however, you can only charge them in an MFS Unit. In addition to that, a full set grants you several passive and active abilities, by keeping your hunger and oxygen meters full, protecting you from poison and fire, reducing fall damage, and allowing you to sprint 3x as fast and jump up to 9 blocks high (a partial set will only grant the abilities tied to the pieces you are wearing - speed from the leggings; jump from the boots; oxygen, poison, and hunger from the helmet; fire from the bodyarmor).
The speed and jump boosts are activated by holding CTRL. However, all these abilities will also drain the energy of the suit over time, requiring more frequent recharging.
The Quantum Suit has a special weakness against the Nano Saber, having its energy reserves depleted and being destroyed in only a few hits.
The Quantum Suit is very expensive to craft, most notably requiring 10 Iridium Plates to craft. You will need a Mass Fabricator to create UU-Matter as well as a Compressor for various intermediate components. It is also recommended to have Recyclers to produce UU-Matter more efficiently using Scrap.
Resource list:
Nano Suit (168 Coal, 4 Diamonds, 32 Redstone, 1 Glass)
280 UU-Matter
14 Diamonds
30 Copper
95 Refined Iron
69 Tin
69 Bronze (105 Copper and 35 Tin; makes one extra Bronze)
72 Rubber
60 Redstone
28 Lapis Lazuli
6 Glowstone Dust
7 Glass
2 Wool
You will have 6 Reinforced Glass and 1 Advanced Alloy left over. The Nano Suit is listed separately from the rest of the ingredients since you usually have a Nano Suit by the time you start to craft your Quantum Suit.
To make the UU-Matter, you will need 46 666 667 EU and 9334 Scrap (almost 146 stacks, or 5.4 standard Chests, or 1.4 Alchemical Chests). You will need additional EU to power the Recycler(s) (3 360 000 EU on average if you don't overclock - but then you will need many Recyclers to get your Scrap in a reasonable timeframe) and a huge stash of junk to Recycle (1166.7 stacks on average, or 43.2 standard chests, or 11.2 Alchemical Chests), so you will probably want a Cobblestone generator as well. If you do not use any Scrap, you will need 280 000 000 EU.
With one non-overclocked Recycler, it will take 46 hours and 40 minutes to produce the necessary Scrap (on average). You may install more Recyclers or use Overclocker Upgrades to speed up the process.
Old Recipe (IC2 1.70/Technic 6)
Edit
Resource list:
112 UU-Matter
18 Diamonds
448 Coal
30 Copper
59 Refined Iron
33 Tin
33 Bronze (51 Copper and 17 Tin; makes one extra Bronze)
72 Rubber
140 Redstone
28 Lapis Lazuli
6 Glowstone Dust
9 Glass
2 Wool
You will have 6 Reinforced Glass and 1 Advanced Alloy left over. Note that the list above includes the ingredients for the Nano armor parts, since it's not just a proper "upgrade your Nano Suit to Quantum Suit" progression like the newer recipe, requiring two full suits and two additional ChestPlates. Note that much more coal and Redstone are needed, but fewer metals and way less UU-Matter. The Diamond cost is the same.
You will only need 18 666 667 EU and 3733 Scrap, or 112 000 000 EU without Scrap, meaning you need a lot fewer Recyclers (or Overclockers for those Recyclers) than in the newest version. As well, you can obtain the suit a lot more quickly without a huge power source due to requiring fewer Iridium Plates. However, you will need to macerate a large quantity of coal and compress it into Carbon Plates compared to the newer recipe.
Older Recipe (IC2 pre-1.70)
Edit
Just in case you are using an archaic version of Technic (before the current Stable build), it is the same as the "new" recipe (multiple Iridium Plates per piece), minus the Nano Suit.
Video Tutorial
Edit
Industrial Craft
 

Energy and Wiring

EU Storage Blocks

EU Storage Items

Transformers
 

Machines

Components

Gatherers

Generators

Processors

Utility

Advanced
 

Nuclear Reactor Components

Cooling

Radioactive
 

Tools

Mundane

Powered

Transmitters

Utility