The pedestal is a functioning block that is part of the Equivalent Exchange mod. When right-clicked or given redstone power, it will activate an effect of various alchemy power items. The GUI can be opened by crouching and clicking on the pedestal. Its area of effect is 9 blocks in every direction. When active, the pedestal will appear to be on fire and Enderman-like particles will appear around it.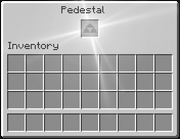 Items that currently work with the pedestal : All the rings, Talisman of Repair, Watch of Flowing Time, Soul Stone.
EMC Value
Edit
4 x 466,944 (Red Matter) + 5 x 139,264 (Dark Matter Block) = 2,564,096 EMC each.
The Pedestal's slot in the GUI has a symbol that resembles the Triforce.
Equivalent Exchange
 

Resources

Blocks

Matter

Covalence Dust

Fuel Items

EMC Storage

Other
 

Tools & Weapons

Dark Matter

Red Matter
 

Armor

Dark Matter Armor

Red Matter Armor

Gem Armor
 

Power Items

Utility

Divining Rods

Rings

Stones

Block Manipulation
Ad blocker interference detected!
Wikia is a free-to-use site that makes money from advertising. We have a modified experience for viewers using ad blockers

Wikia is not accessible if you've made further modifications. Remove the custom ad blocker rule(s) and the page will load as expected.