| | |
| --- | --- |
| | Normans contains information about the Millénaire mod which is not included in the current recommended version of Technic Pack and might be outdated. |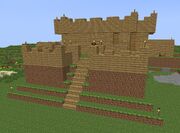 The Normans are a culture in Millenaire that are known for their military, their fast population growth and for having a set of tools that are better than iron and diamond. The Norman people are considered as today's French people.
Village agricole (Agricultural Village)
Village d'artisans (Artisanal Village)
Village écclesiastique (Ecclesiastic Village)
Village militaire (Military Village)
Bourg autonome (Independent Town)
Seigneurie (lordship (Player controlled))
Gros bourg (Town)

Hameau agricole (Agricultural Hamlet)
Hameau abbatial (Ecclesiastic Hamlet)
Hameau industrieux (Industrious Hamlet)
Chevalier (Knight) - lives in fort from there he goes out and patrol his land. Right clicking the knight will open a pop-up which shows cultural relationships and possible housing as well as other useful information
Moine (Monk) - lives in Abbey
Seneschal - oversees agriculture production (farming)
Maître de guilde (Guild Master) - supervises the guild house
Unique Items
Edit
Ad blocker interference detected!
Wikia is a free-to-use site that makes money from advertising. We have a modified experience for viewers using ad blockers

Wikia is not accessible if you've made further modifications. Remove the custom ad blocker rule(s) and the page will load as expected.