| | |
| --- | --- |
| | Moistener contains information about the Forestry mod which is not included in the current recommended version of Technic Pack and might be outdated.. |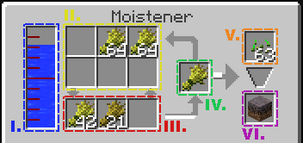 The moistener is used to create mulch and mycelium, mossy cobblestone or mossy brick. The moistener does NOT need to be powered by an engine to operate, but must have water, a light level of less than 11 (the darker the area, the faster it works) and have either wheat seeds for mycelium, stone brick for mossy brick or cobblestone for mossy cobblestone. Wheat placed in the area marked II in the GUI picture will cycle through the areas marked III and IV decaying through the stages "mouldy" and "decaying" before turning into mulch.
Ad blocker interference detected!
Wikia is a free-to-use site that makes money from advertising. We have a modified experience for viewers using ad blockers

Wikia is not accessible if you've made further modifications. Remove the custom ad blocker rule(s) and the page will load as expected.