| | |
| --- | --- |
| | Logger contains information about the Forestry mod which is not included in the current recommended version of Technic Pack and might be outdated.. |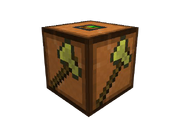 The logger cuts down all the trees in its area of operation. Its area of operations is 21x10x21 (X-Y-Z), with the base of any tree harvested being no higher than 10 but will harvest to the top of the tree. As a side operation, the logger does also pick up any saplings and apples that drop in its area. It needs to be powered by a Buildcraft compatible
engine
or an engine provided by forestry.
You can combine it with an Arboretum and Buildcraft Transport Pipes to create an automatic treefarm.
With a millinaire village, you can place it in a log harvester section and the man will come along during the day to plant saplings while the logger takes them.
Pre-Forestry 1.4.8
Forestry 1.4.8+
Piping (Buildcraft)
Edit
Harvested materials are auto ejected into connected buildcraft pipes or placed into adjacent chests. If using pipes, saplings and apples are only ejected into a pipe on top or bottom of the logger:
Top/bottom: Saplings
Top/bottom: Apples
Sides: Logs