| | |
| --- | --- |
| | Japanese contains information about the Millénaire mod which is not included in the current recommended version of Technic Pack and might be outdated. |
| | |
| --- | --- |
| | The article Japanese is still unfinished and may be lacking detailed general information, screenshots, and crafting recipes. Please expand the article and remove the {{unfinished}} tag once the article can be considered complete. |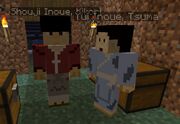 The Japenese were the last civilization to be added to the Millenaire mod.
Bukkyou Mura (Religious Village)
Gunjiteki Mura (Military Village)
Nouji Mura (Agricultural Village)
Shiyuuchi (Player Controlled Village)
Shukun (Lord)
Kokushi (Overseer)
Chōkan (Chief)
Unique Items
Edit
Tachi Sword
Yumi Bow
Keiko Helmet
Keiko Chestplate
Keiko Leggings
Keiko Boots
Paper Wall
Udon
Ad blocker interference detected!
Wikia is a free-to-use site that makes money from advertising. We have a modified experience for viewers using ad blockers

Wikia is not accessible if you've made further modifications. Remove the custom ad blocker rule(s) and the page will load as expected.