| | |
| --- | --- |
| | Item Loader contains information about the Railcraft mod. |
Item Loader
Physics
No
Tool
Mod Included
Railcraft

Item Loaders are Devices in Railcraft designed to automatically load or unload items from a Storage Cart without direct interaction from the player. Item Loaders come in four varieties: Loaders, Unloaders, and Advanced Loaders and Unloaders.
Loaders and Unloaders have a GUI interface that determines what gets loaded or unloaded, and how much. The GUI will be demonstrated further down the article.
Loaders are the first half of the basic Loader/Unloader system. When activated, they will fill any Storage Cart below them from an adjacent Block with an inventory (Chest, Furnace, Unloader, et cetera) Alternatively, BuildCraft Transport Pipes can be installed in the Loader to provide items directly.
When a Loader has filled a Storage Cart, it will put out a Redstone current to signal it has finished loading the cart. This can be used to power something like a Boarding Track to send the cart down the line and make room for the next cart to be loaded.
Advanced Item Loaders
Edit
Advanced Loaders operate exactly the same as standard Loaders, but do not rely on gravity to move items from the Loader to the cart. Thus, Advanced Loaders can be placed adjacent to the track, instead of above it.
Unloaders
Edit
Unloaders are, as one might expect, the opposite of a Loader; they remove items from any Storage Cart that passes over them. The items are then either stored in an adjacent Chest, or else sent out via BuildCraft pipes. The recommended setup is to place an Unloader below a Boarding Track, which will hold the cart in place until it is empty, after which the Unloader will put out a Redstone current, powering the Boarding Track to send the cart along.
Advanced Item Unloaders
Edit
Advanced Unloaders, like Advanced Loaders, work exactly the same as their standard counterparts, but do not rely on gravity to operate properly. Thus, Advanced Unloaders do not need to be placed below the track to unload items from passing Storage Carts.
User Interface
Edit
The GUI (Graphical User Interface) for Loaders and Unloaders is the same, regardless of which function it performs. The interface sets what items will be loaded/unloaded, how much of that item is to be moved, and whether or not the Loader/Unloader will hold the cart until the determined item(s) and amount(s) have been loaded or unloaded.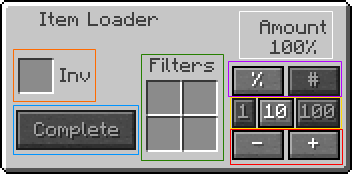 Inventory: The Loader/Unloader's internal inventory, which can hold one stack of items. This inventory slot will be automatically supplemented by any adjacent blocks with an inventory, such as a Storage Chest, a Furnace, or similar blocks.
Filters: If items are placed in any of these four spaces, the Loader / Unloader will move only those particular items, ignoring the rest that are aboard the Cart or in the Loader's storage.
Complete Command: This button determines whether or not the Loader/Unloader holds the cart until it has finished loading or unloading the programmed amount.
Percent Mode

Complete On: The cart will stay until at least one item is moved or the cart is full/empty.
Complete Off: The cart will leave if there are no items to load/unload, even if no items have been loaded/unloaded.

Number Mode:

Complete On: The cart will stay until the assigned number of items has been moved.
Complete Off: The cart will leave as soon as there are no more items to load or unload.
Display: This shows which mode the Loader/Unloader is in (Percentage or Number Mode) and what the assigned value for the mode is.
Mode Selectors: This sets how the Loader/Unloader determines how much of an item or items to move. Percent mode will take a fraction of the items based on the number available. (NOTE: This function does not work with Loaders assigned to Blocks with complex inventory systems, such as the Rolling Machine. Loaders attached to those blocks will automatically default to Number Mode. This does not apply to Unloaders) Number Mode tells the Loader/Unloader to move defined number of items, regardless of how many are actually available.
Magnitude Buttons: These select either the hundreds, tens, or singles digits to be changed using the Adjustment Buttons.
Adjustment Buttons: These either add or subtract 1, 10, or 100 from the assigned Load/Unload value, based on which of the Magnitude buttons is selected.
| | |
| --- | --- |
| Basic Item Loader | Advanced Item Loader |
| Basic Item Unloader | Advanced Item Unloader |
Railcraft
 

Tracks

Standard Tracks

Wooden Tracks

High-Speed Tracks

Reinforced Tracks
 

Items & Blocks

Tools

Parts

Blocks
Ad blocker interference detected!
Wikia is a free-to-use site that makes money from advertising. We have a modified experience for viewers using ad blockers

Wikia is not accessible if you've made further modifications. Remove the custom ad blocker rule(s) and the page will load as expected.