This mod, also known as Balkon's Weapon Mod, adds several unique new weapons to the game. Get ready for a whole new dimension of stabbing, slashing, hacking, hammering, pounding, maiming, throwing, shooting and blowing things up! Throw a spear through a zombie's head! Cut a skeleton in half with your brand new halberd! Blast some slimes to pieces with an old musket! And more!
Melee Weapons Edit
You can craft all melee weapons either with wooden planks, cobblestone, iron ingots, gold ingots or diamonds. All golden weapons deal a little more knockback.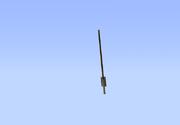 A spear to hunt a cow! It does less damage than a sword and has a small knockback. You can now also throw them! The spear will not disappear after hitting a mob, and deals the same damage as when you stab with it.The spear can attack the mobs further than 1 block.
Damage amount in Health Points (1 half heart= 1 HP)
Wood: 3
Stone: 5
Iron: 7
Gold (much greater knockback): 3
Diamond: 9
Good when paired with knives.
A halberd to smash a creeper in the face! It does more damage than a sword and has a big knockback. Right click to switch from slashing to stabbing mode! Does more damage, but has a smaller knockback.The halberd takes a longer time then warhammer and battleaxe to attack the mobs.The halberd also like sear in that it can attack the mobs further than 1 block.
Damage amount in Health Points (1 half heart= 1 HP)
Stabbing Damage
Wood: 6
Stone: 8
Iron: 10
Gold (much greater knockback): 6
Diamond: 13
Slashing Damage
Wood: 5
Stone: 7
Iron: 9
Gold (much greater knockback): 5
Diamond: 11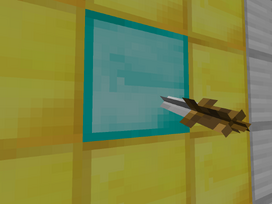 A knife to stab a spider! It does less damage than a sword and has half the durability, but is crafted with very few resources and can be crafted without a workbench. The knockback is small. You can break cobwebs easily with it. Like the spear, you also throw them!
It is recommended to carry multiple knives if you are planning to throw them so you do not have to run and get them while fighting. These (along with spears) are good for desert combat because mobs have less cover.
Thrown knives do the same damage as when you stab with them.
Damage amount in Health Points (1 half heart= 1 HP)
Stabbing Damage
Wood: 3
Stone: 5
Iron: 7
Gold (much greater knockback): 3
Diamond: 9
Use these to keep a dangerous mob at range.
The battleaxe
Edit
The battleaxe is an item which can be used like a normal axe or like a weapon. It has the ability of "Ignore armor", dealing more damage. Also the attack speed decreases by 5. This is perfect like for a P.v.P. battle or for slicing some mobs.
Dealing damage in points. (full hearts)
Wood: 2 points.
Stone: 2.5 points.
Iron: 3 points.
Diamond: 3.5 points.
Gold: 2-2.5 points.
NOTE: To obtain in-game real damage duplicate the points.
WarHammer
Edit
A warhammer to squeeze a slime! Does as much damage and has the same knockback as the halberd, but does huge damage to blocks, depending on the weapon material. Hold right mouse button to charge a super-ground-smash, or whatever you want to call it! If you hold it long enough and then release, you smash the ground so hard all the mobs around you will get hurt. This super-grounds-mash has a 10x10 block radius.The warhammer takes longer time that likes battleaxe to attack.
It is not recommended to use a warhammer next to a mob spawner that you want to leave intact. Because of the massive damage the warhammer does to your surroundings you may find that the spawner will be gone much sooner than you had anticipated. It will also knock all paintings in the area off the walls.
Damage amount in Health Points (1 half heart= 1 HP)
Damage
Wood: 4
Stone: 6
Iron: 8
Gold (much greater knockback): 4
Diamond: 10
Note: secondary function will destroy training dummies.
Extremely good for swarms of zombies; testing proved 7 zombie kills for one charge .
A flail to swing at pigmen! Right click to throw it. The ball will follow you where you go, right clicking it again will swing it. Every swing decreases the item's durability, so swing carefully. Any resemblance between this recipe and other vanilla items is completely coincidental. This weapon also does full damage as your drag it and run into mobs/players. Selecting a different item will let go of the flail.
Damage amount in Health Points (1 half heart= 1 HP)
Damage
Wood: 4
Stone:
Iron:
Gold (much greater knockback):
Diamond: 12
It still injures mobs when dragged on the ground.
Throwable Weapons Edit
Aside from the weapons below, the spear and the knife are throwable as well. This can be disabled in the mod settings.
A javelin to throw at chickens! You can throw it by holding right mouse button while holding it. It does the more damage than arrows, but doesn't go as far and has a large deviation. You don't need feathers to craft them, or a bow to shoot them. If you fall downwards and throw the javelin downwards, it will have a critical hit. Same as when aiming upwards.
Damage amount in Health Points (1 half heart= 1 HP)
Stabbing Damage
Thrown Damage
(Only one crafting recipe)
Good against jumping spiders!
Throwable dynamite
Edit
Not just ordinary TNT! Right click to light it! It will take a few seconds before it extinguishes. Right click again to throw it. Because of this you can decide how long it takes before detonation. The explosion power is half the power of TNT.
Damage amount in Health Points (1 half heart= 1 HP)
Damage
Damage spreads across a 5x5 block area and 2 blocks deep.
Does 20 HP or more on direct hit and only 3 HP from 5 blocks.
Give a creeper a taste of his own medicine!
Shooting weapons Edit
All shooting weapons use ammunition that you need to craft separately.
NOTICE: On any shooting weapon you must first cock the weapon by holding down right button till it clicks, then press the right button again to fire.
Much like the bow, you hold down the Right Mouse Button to increase power. The musket uses musket rounds and does extremely high damage. You can also attach a bayonet to it, so you can stab opponents too. You can only shoot 63 musket rounds, then the musket will break. After each shot you need about 2 seconds of reload time. Hold the right mouse button to reload wait until you hear TWO clicks. Once loaded, release and hold it again to aim down sight. The musket is crafted with a wooden stock part and an iron musket barrel part.
Damage amount in Health Points (1 half heart= 1 HP)
Shooting Damage
20 or more at 3 blocks distance
19 at 27 blocks distance
0 at 28 blocks distance
Stabbing Damage (with bayonet): 7
Without bayonet: 1
The stock component:
The barrel:
The full musket:
If you want to add a bayonet, you need to attach an iron knife:
The full musket:
And last, but not least, the ammunition, musket rounds:
Works well against bears and Bigcats.
A blowgun to poison a sheep! Shoots fast and accurate. Has a small reload time. It shoots blowgun darts, which are poisonous. This means that when you hit a mob, he becomes ill. If a mob is ill, it will receive damage over time, and has a small chance to heal from the illness. The poison will not kill the mob, but often the mob remains with half a heart left. The dart itself doesn't do much damage, which is why it is recommended you pair it with a knife so you can finish whatever you poisoned.
Note that, as for arrows, darts have a low velocity and will fall towards the ground, meaning one must aim a little above the target when attacking from afar. Darts that do not hit a mob or player will fall to the ground and can be picked up.
Damage amount in Health Points (1 half heart= 1 HP)
Damage
Initial hit does 1 HP
Poison does 1 HP every second after that
And the blowgun darts:
A fast reload allows for a constant volley of shots.
A blunderbuss to deal with a squad of zombies! Reloads like the musket, but quicker. Uses blunderbuss shots as ammunition. When fired, it shoots 10 small projectiles with a wide spread. The closer the target the more hits landed, similar to a shotgun in first person shooter games. The shots can also go through at least 4 players/mobs.
Damage amount in Health Points (1 half heart= 1 HP)
Damage
20 or more <5 blocks distance
19 at 5 blocks
10 at 15 blocks
The barrel crafting recipe:
Combining it with the musket stock creates the blunderbuss. It does not enchant:
And the blunderbuss ammunition:
This one speaks for itself(literally!*BOOM*!).
Other Weapons Edit
Weapons that do not fall into the other categories.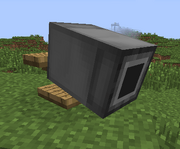 A cannon to take revenge on griefers! Ever thought there is something missing in your armory? This monster will fill every empty space you find.
While it does look like an oversized trash can on a wooden mount, this thing packs more punch than a Ghast, and has twice the range. You can place it on a flat surface wherever you want, and mount and dismount it with a right click. When mounted, the barrel of the cannon will aim for whatever you look at. To load the cannon, make sure you have gunpowder in your inventory, and right click on the cannon with a cannonball. Wait a few seconds, and then hit space (or the desired jump button) to fire!
Damage amount in Health Points (1 half heart= 1 HP)
Damage
Does 20 or more HP damage up to 50 blocks away
Has a damage spread of 5x5x5 blocks. (Length x Width x Depth)
Note that the cannonballs can cause quite some destruction when they hit blocks, so do not test this weapon in or near your base.
And the cannon ball:
Good for home defense.Nope
Miscellaneous Edit
Items that do not fit any other category.
Training Dummy
Edit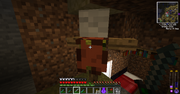 This isn't really a weapon, but BalkondeurAlpha made this, as he said, "just for fun, as a gift to all the fans of the WeaponMod!"
Place the dummy with right clicking. It will always face the player when placed. Similar to signs, the dummy can be aligned in eight different directions. Pick it up with another right click, if you are not holding a weapon from this mod, sword or bow. You can hit the dummy infinitely, it will never break from projectile or melee damage. It does get destroyed, however, when set on fire, exploded or when it falls from too high.
Video Spotlight
Edit