| | |
| --- | --- |
| | Iron Chest contains information about the Iron Chests mod. |
The Iron Chest is an improved version of the standard Chest, having more storage capabillity than before. The Iron Chest has an extra 9 more slots compared to the Copper Chest, and 27 more compared to a regular chest. In addition to crafting it, you can also right click on a Copper Chest with a Copper to Iron Chest Upgrade to upgrade it to Iron. Two Iron Chests can be placed next to each other and they won't join to make a larger chest.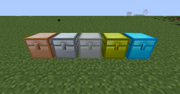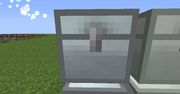 Ad blocker interference detected!
Wikia is a free-to-use site that makes money from advertising. We have a modified experience for viewers using ad blockers

Wikia is not accessible if you've made further modifications. Remove the custom ad blocker rule(s) and the page will load as expected.