| | |
| --- | --- |
| | Infinite, Quick and Cheap Energy is a Tutorial. |
| | |
| --- | --- |
| | Infinite, Quick and Cheap Energy contains information about the Industrial Craft mod. |
WARNING: You may not be far enough into the game yet to meet the prerequisites for this method. Check the recipes (scroll down) to see if you can do this yet. Once you have these, this method is really cheap and simple from there on. There is a cheaper way of doing this if you scroll down the page.
You have landed yourself on yet another page telling you how to get EU. But this is extremely easy and simple. Of course there is a small catch in which you will need to build a Swiftwolf's Rending Gale and a Klein Star. But after this, it is really easy and simple.
This is a step by step guide so I am going to describe the steps as simply as possible:
You might be thinking that this is extremely complicated right now. Well, if you don't have the resorces to create the above, simply come back to this page when you are a little further on in the game. If you are thinking that this is easy and you already have most/all of the items above then great; that is the hard part.
From now on, this is very simple...
Charge your Klein Star to an appropriate amount (at least 10,000 EMC, depending on how much EU you want).
Build loads of Empty Cells (at least one stack)
Make sure you have your partially (or fully) charged Klein Star in your inventory and your Swiftwolf's Rending Gale in your hotbar.
Go through the portal (make sure it is lit first using a flint and steel).
Fly around The Nether looking for one of those massive lava lakes (double tap space or whatever button you use to jump with).
Go up close to it (not too close or you will die a fiery death) and hold your cells. Right click on the lava on the surface of the lake to make Lava Cells . Carry on doing this until you have filled all of your cells.
Return to The Overworld.
Put a stack of Lava Cells in your Geothermal Generator and fill it up again whenever the Geothermal Generator has run out cells.
Say hello to virtually infinite, easy and cheap power!
Go back to The Nether when you run out of Lava Cells and go fill them up and put them in the Geothermal Generator.

And that's it! Rember to refill your Klein Star before going back to The Nether again for your ring uses EMC to power it and once it runs out, you fall and die in lava so be careful, because actually a swiftwolf's rending gale doesn't NEED power, it just uses it, meaning you don't need a klein star.
This process also blocks out the need for a Nuclear Reactor. Remember, if you aren't getting enough power then make more Geothermal Generators and fill them up with Lava Cells too.
This is also good for portable energy, just bring a Geothermal Generator and some Lava Cells (remember, Lava Cells do stack up to 64!).
Cells are really cheap (worth 64 EMC per cell) so it doesn't matter that you lose them in the process.
Cheaper Alternate Way (More Complex)
Edit
Maybe you can't afford a Swiftwolf's Rending Gale or a Klein Star... do not despair! There is a way to do this without using these!
Firstly you will need:
At least 1 Snowball (destroy Snow with a spade to obtain) or a Water Cell.
A Compressor.
A Nether Portal (link near top of the page).
A Geothermal Generator.
As many Empty Cells as you think you are going to need (at least one stack of 64).
At least two stacks (64s) of Sand and/or Gravel.
An Empty Bucket.
A good shovel is recommended to speed up the process (You are going to be destroying lots of Sand/Gravel).
A Nether Portal is made from Obsidian which needs to be mined with a Diamond Pickaxe. Ok, so now for the step-by-step guide for infinite power:
Put the Snowball in the Compressor (or Water Cell and then put the Snowball created from that in the Compressor again) to obtain an Ice Block
Go through the Nether Portal.
Walk around the Nether for a Lava Lake (follow link for help on finding a Lava Lake)
You will be on a piece of land above it. Go to the edge of the land and check that the Lava Lake is directly below you. If it is, place the Ice Block and destroy it. This will cause Water to flow down to the Lava Lake and turn a sort of diamond shape of Lava into Obsidian.
Pick up the Water source block with your Bucket.
Stand on the edge of the floaty island thing and start placing Gravel/Sand on the edge so that it falls onto the Obsidian platform. Keep doing this until the Sand/Gravel tower reaches you (If using Gravel, make sure you bring more than enough for when you destroy it after, you need it to get back up and some of it will turn into Flint).
Stand on that Gravel/Sand tower and start destroying the blocks beneath you until you eventually end up on the Obsidian platform.
Go to the edge of the platform and start picking up Lava with your Empty Cells until you have filled them all up (right click on the Lava with the Cells)
Build a Gravel/Sand tower beneath you (whilst jumping) to reach the place you came down from.
Go back through your portal and go to your Geothermal Generator.
Fill it up with Lava Cells.
Repeat this process when you need more Lava Cells
Carry on using this metod until you reach a further stage in the game when you can use the simpler first method.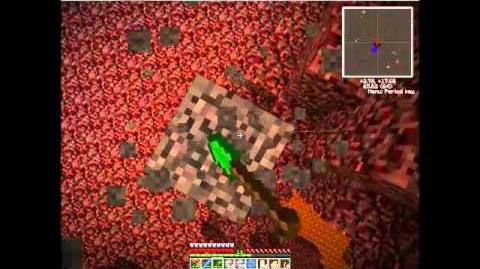 Ad blocker interference detected!
Wikia is a free-to-use site that makes money from advertising. We have a modified experience for viewers using ad blockers

Wikia is not accessible if you've made further modifications. Remove the custom ad blocker rule(s) and the page will load as expected.