| | |
| --- | --- |
| | Humus (Forestry) contains information about the Forestry mod which is not included in the current recommended version of Technic Pack and might be outdated.. |
Humus is the most basic resource for tree farms. Growing lots of trees in a small space requires a mineral and nutrient rich soil. Growing lots of trees in a small space will deplete any mineral and nutrient rich soil in quite a hurry, so be prepared to fertilize lots and lots of dirt and ship it to your tree farms. Players can produce this quality soil (called humus) by fertilizing plain old dirt.
There are two types of fertilizer: The biological variant, Manure, and the mineral variant, Fertilizer. They can both fertilize the same amount of dirt (eight for every manure or fertilizer) after being created. Alternatively, Humus can be created by using a Carpenter with Mulch instead of fertilizer and get 9 Humus, though this does require some use of water as well.
Carpenter recipe: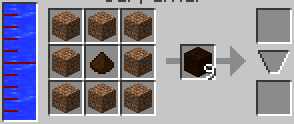 Ad blocker interference detected!
Wikia is a free-to-use site that makes money from advertising. We have a modified experience for viewers using ad blockers

Wikia is not accessible if you've made further modifications. Remove the custom ad blocker rule(s) and the page will load as expected.