Taintweed contains information about the ThaumCraft 2 mod.
This information may not apply to the later ThaumCraft 3 version.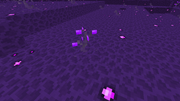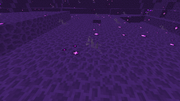 A plant that naturally occurs in tainted zones. There are two types: plain Taintweed and Glowing Taintweed. It sometimes drops Taint Spores, a common tainted artifact. Both types of taintweed can be harvested using shears.
Thaumcraft
 

Thaumatorium

Vis Production

Vis Measuring

Vis Management

Vis Processing

Other

Equipment
 

Objects of Wonder

Power Items

Seals
Ad blocker interference detected!
Wikia is a free-to-use site that makes money from advertising. We have a modified experience for viewers using ad blockers

Wikia is not accessible if you've made further modifications. Remove the custom ad blocker rule(s) and the page will load as expected.