====
| | |
| --- | --- |
| | Descriptive Book contains information about the Mystcraft mod. |
====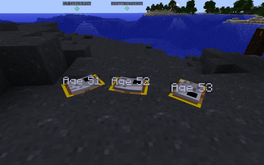 Descriptive Books are items from
Mystcraft
used to create new
Ages
. You can use them to travel to the Ages created by them, similar to
Linking Books
.
Descriptive Books used to be crafted with a book and a feather:
But in the latest version of Mystcraft descriptive books can only be crafted in a bookbinder using leather and paper.
When they are crafted, they will be empty. By putting them in a Writing Desk, one can add Symbols from a Notebook by clicking on the Symbol, but note that Symbols cannot be removed. The book can be traversed, similar to a Linking Book. Doing so will automatically generate any unspecified required Symbols, or generate an entire Age on its own, if no Symbols are specified. Each Descriptive Book will link to a different Age, even if the same Symbols are used. Descriptive Books can also be placed on Linkbook Stands.
NOTE: If the Desciptive Book is lying open on the ground, there is only one way to pick it up and put it in your inventory. You must right-click on the book, and then left-click the book icon on the top left and drag it into your inventory. Hitting a Descriptive book will only destroy it, not dropping the item.
Ad blocker interference detected!
Wikia is a free-to-use site that makes money from advertising. We have a modified experience for viewers using ad blockers

Wikia is not accessible if you've made further modifications. Remove the custom ad blocker rule(s) and the page will load as expected.