| | |
| --- | --- |
| | Cutting Recipes contains information about the RedPower mod. |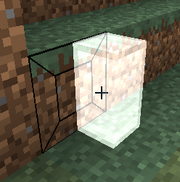 This article is a collection of cutting recipes for the
Handsaw
tool from the
Redpower
mod.
Description
Edit
Cutting Recipes
Edit
Horizontal Cuts
Edit
When your block has the desired thickness, you can optionally cut it horizontally into strips by placing your saw on the side. While much less effective at protecting wires than covers or panels, strips can prevent unwanted wire connections while maintaining a much lower profile than full-sized covers. They are also useful for decoration, for making stairs, and many other things!
Reforming
Edit
Now that you have a lot of tiny pieces of blocks, you can also glue them back together. This is useful if you made a mistake in cutting them or simply made too much of them. The process is simply the reverse of the cutting action. You will not need any tool or glue and you will also not lose any material. Two Corner pieces stacked vertically will give the corresponding Strip.
Putting two strips horizontally of each other allows you to restore the piece they were cut from.
Vertical Slices
Edit
Of course you can put the vertical block slices back together to receive the item they were made from.
Non-standard sizes
Edit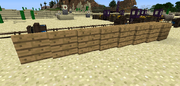 There are several non-standard size panels and blocks which are made by combining several thinner slices;
Anticovers are as thick as a block minus a cover (7/8ths of a block) and are made from a slab, panel and cover.
Triple Panels are three times as thick as a panel (6/8th block and made from three panels as the name suggests.
Coverslabs add the thickness of a slab and a panel (5/8th block crafted from a cover and a slab.
The Triple Cover is thrice as thick as a cover (3/8th block and therefore made of three such covers.
These slices can be reverted into the parts they were crafted from, and they can also be combined with smaller slices to create regular panels, covers or full blocks.
If you cut those non-standard slices vertically with a Handsaw, you can create non-standard strips.
Columns, Pillars & Posts
Edit
Unlike the other small blocks you can craft, Columns, Pillars and Posts will be placed in the middle of a surface. Other small blocks can only be placed on sides or corners. Craft them from Strips of Triple Panels, Slabs or Panels simply by placing them into the crafting area. You can just as easily revert them to strips.
Note: the inventory icons for Columns, Pillars and Posts have the rims on the top and bottom, but they don't actually have rims when placed. It's just a way of telling them apart in your inventory.
Ad blocker interference detected!
Wikia is a free-to-use site that makes money from advertising. We have a modified experience for viewers using ad blockers

Wikia is not accessible if you've made further modifications. Remove the custom ad blocker rule(s) and the page will load as expected.