The crucible is the single most important part of the ThaumCraft mod, as it is the only artifact capable of turning physical objects into pure magic flow - Vis. Without it, all other artifacts would not function, and the thaumaturge would not be able to work his magic.
Vis Crucible
Edit
The most basic form of crucible, it burns items you toss into it in exchange for vis. Depending on how rare an item is, a specific amount of vis (a purpleish, sparkling liquid) appears in the crucible. Be careful not to overfill the crucible, however, for if the Vis Crucible spills over, any number of unpleasant events could occur (ranging from the destruction of nearby blocks and explosions to the creation of Thaumic Slimes). Standing on a Vis Crucible deals 1/2 a heart of damage per second. Anything the Crucible cannot process is spit back out at the user.
The Crucible of Eyes
Edit
This upgrade to the normal crucible is able to hold slightly more vis, but its primary benefit is that it sends out a redstone signal once it is more than 90% full.
Thaumium Crucible
Edit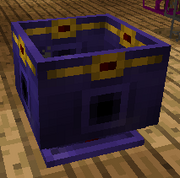 This crucible holds more vis than the Crucible of Eyes and also sends out a redstone signal once it vis levels go above 90%. Its main ability however is the fact that it will never smelt an item if the resulting vis would cause it to overflow - it only smelts enough items to fill it, the rest remain inside waiting for the vis levels to drop.
Ad blocker interference detected!
Wikia is a free-to-use site that makes money from advertising. We have a modified experience for viewers using ad blockers

Wikia is not accessible if you've made further modifications. Remove the custom ad blocker rule(s) and the page will load as expected.