A Public Service Announcement
Adding Crafting Table III was not seen as a viable option to be added to the Technic Pack, as Crafting Table III modifies core files from Minecraft that are already used by Not Enough Items, and the fix for this compatibility issue does not work with the current version of NEI.
NEI provides far more options and functions than Crafting Table III, a choice had to be made, and so Crafting Table III was not included in the pack.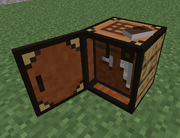 Crafting Table III, by Zeldo, is a continuation of ljdp's mod Crafting Table II. It adds the exact same style crafting table, but without block/item descriptions.
You can create the Crafting Table III like this:
Inspired by Terraria crafting, the Crafting Table III displays everything you can currently craft with the items in your inventory. How much of each item the recipe uses is displayed on the left. Click on the item and the Crafting Table III will automatically craft it for you without you ever having to remember the recipes. As you add and remove items from your inventory the list of available items updates. This will work with any recipe, including mods. The Crafting Table III also has an internal inventory where the items you create are put.
Video Spotlight
Edit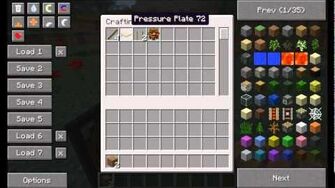 Ad blocker interference detected!
Wikia is a free-to-use site that makes money from advertising. We have a modified experience for viewers using ad blockers

Wikia is not accessible if you've made further modifications. Remove the custom ad blocker rule(s) and the page will load as expected.