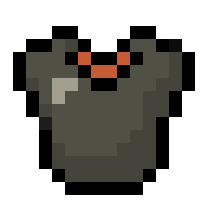 A
Composite Vest
is a heavily-armored piece of torso armor that the player can assemble from
Advanced Alloy
plates, an Iron Chestplate, and a Leather Tunic. Composite Armor only comes in a torso section, which provides three points of protection.
The benefit of choosing Composite Armor over more conventional protection is two-fold. First, composite armor has extremely high durability; exponentially higher than that of the leather and iron put together.
The second, and arguably more important reason, is that Composite Armor is blast-resistant, giving the player impressive protection against Creepers and explosive-based accidents of various kinds.
Industrial Craft
 

Energy and Wiring

EU Storage Blocks

EU Storage Items

Transformers
 

Machines

Components

Gatherers

Generators

Processors

Utility

Advanced
 

Nuclear Reactor Components

Cooling

Radioactive
 

Tools

Mundane

Powered

Transmitters

Utility
Ad blocker interference detected!
Wikia is a free-to-use site that makes money from advertising. We have a modified experience for viewers using ad blockers

Wikia is not accessible if you've made further modifications. Remove the custom ad blocker rule(s) and the page will load as expected.