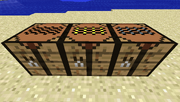 Charging Benches
Edit
Charging Benches are devices that allow you to charge up to 12 electrical tools and items at one time. There are 3 tiers; each designated with a specific mark version. They can generally charge items faster than placing them into the charge spot on a MFE or MSFU. Also if you place a stack of items in it will separate them into invidual spots until all are full. If there are still some items stacked, they will unstack as individual items are removed from the bench.
To charge an item place it to the right grid, power sources can go in the left box, or be powered by cables. Some items will not charge in the lower mark charging benches (i.e.: Mining Lasers, LapPacks) The reason for this appears to be too low of a current, which may mean it does charge the item, just incredibly slow. The exact specifics on what EU charging benches have coming from them is not known quite yet.
If the bench is redstone powered it will discharge the items inside to emit power.
Mark I Bench
Edit
This model accepts Low Voltage(32 EU/T) and charges standard tools and devices, such as a Mining Drill and a RE-Battery
Recipe:
Mark 2 Bench
Edit
This model accepts and outputs Medium Voltage(128 EU/T) and can charge an Energy Crystal and Nano Suit/Nano Saber
Recipe:
Mark 3 Bench
Edit
The best charging bench in the mod. It is capable of using High Voltage(512 EU/T) and can charge a Lapotron Crystal and Quantum Suit.
Recipe:
External Links
Edit
Industrial Craft
 

Energy and Wiring

EU Storage Blocks

EU Storage Items

Transformers
 

Machines

Components

Gatherers

Generators

Processors

Utility

Advanced
 

Nuclear Reactor Components

Cooling

Radioactive
 

Tools

Mundane

Powered

Transmitters

Utility
Ad blocker interference detected!
Wikia is a free-to-use site that makes money from advertising. We have a modified experience for viewers using ad blockers

Wikia is not accessible if you've made further modifications. Remove the custom ad blocker rule(s) and the page will load as expected.