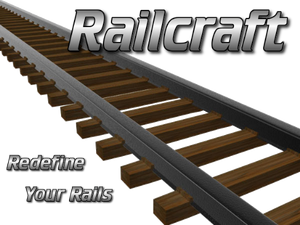 We are working on renaming all the rails in the Tracks section to Tracks.
Railcraft is a mod that adds to the possibilities and fun of working with rails. It adds useful rails for transport, such as Boarding Tracks and One-Way_Tracks, as well as High-Speed_Tracks. It also creates great possibilities for automation with things like loaders and energy carts . And there are fun extras such as TNT Carts and Launcher Tracks. Railcraft is a really useful mod whether you want to create automated factories or just want an elaborate subway system to various locations.
Railcraft
 

Tracks

Standard Tracks

Wooden Tracks

High-Speed Tracks

Reinforced Tracks
 

Items & Blocks

Tools

Parts

Blocks
 

Devices

Signals

Loaders/Unloaders

Other Devices
Ad blocker interference detected!
Wikia is a free-to-use site that makes money from advertising. We have a modified experience for viewers using ad blockers

Wikia is not accessible if you've made further modifications. Remove the custom ad blocker rule(s) and the page will load as expected.