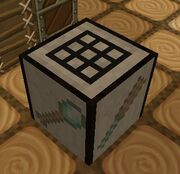 The cart manager is a block that contains all the recipes of the carts in the Steve's Carts mod.
The cart manager's interface will show you a map of all the carts (and the rails and blocks). Drag with your mouse to navigate the map. Clicking on a cart will open its crafting menu. Here you can see its recipe, it's total cost and the resources you're missing to be able to craft it. If you have all the resources you can just grab the cart from the crafting grid. The resources used will be removed from your inventory.
Back at the map you can also select the arrow to be able to upgrade the cart manager. A tier one cart manager can only create tier one carts, a tier two cart manager can create tier one and tier two carts and so on. There's four tiers in total.
There's also a recycler button at the map, clicking this will bring you the recycle menu. Putting any cart or cart component in the recycle slot will recycle the items used to create it. These items will be added to your inventory.
Not Enough Items, also included in the Technic Pack, will also contain the recipes for all of Steve's Carts.
Cart Manager doesn't does exist in current versions.
Steve's Carts
 

Carts

Attacking

Automatic

Building

Passenger

Storage

Utility
Ad blocker interference detected!
Wikia is a free-to-use site that makes money from advertising. We have a modified experience for viewers using ad blockers

Wikia is not accessible if you've made further modifications. Remove the custom ad blocker rule(s) and the page will load as expected.