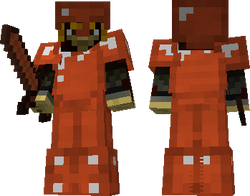 Bronze Armor
, from
Industrial Craft
, is one step above Iron Armor. Bronze Armor grants the same amount of protection as Iron Armor, in 1.2.5, or Diamond armour, in 1.4.6, and has 30% more durability than Iron Armour.
The full set includes the bronze boots, chestplate, helmet, and leggings. Just like other armor, it is made with bronze ingots, and it takes 24 bronze ingots to make a full set.
Industrial Craft
 

Energy and Wiring

EU Storage Blocks

EU Storage Items

Transformers
 

Machines

Components

Gatherers

Generators

Processors

Utility

Advanced
 

Nuclear Reactor Components

Cooling

Radioactive
 

Tools

Mundane

Powered

Transmitters

Utility
Ad blocker interference detected!
Wikia is a free-to-use site that makes money from advertising. We have a modified experience for viewers using ad blockers

Wikia is not accessible if you've made further modifications. Remove the custom ad blocker rule(s) and the page will load as expected.